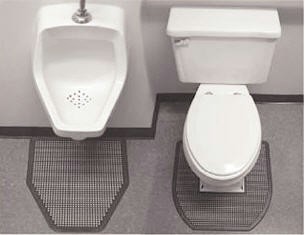 ProSorb Urinal and Commode Mats
Keep your restroom facility looking professional, clean, and sleek with our unique ProSorb urinal and commode mats. Our urinal and commode mats offer multiple benefits, making your purchase worth every penny.
Around the Clock Protection: ProSorb urinal and commode mats provide your restroom floors with 24/7 protection. Tired of worrying about yellow urine stains destroying floor surfaces? Our mats protect and extend the life of all types of floors, leaving you stress-free and satisfied.
Odor Control: Our anti-microbial urinal and commode mats help reduce the growth of bacteria, thereby controlling foul odors. By breaking down the urine, ProSorb urinal and commode mats will help keep your restroom smelling clean and fresh.
Reduce Slips and Falls: ProSorb urinal and commode mats are designed with special slip-resistant backing, soaking up moisture and turning it into a gel instantly. Our urinal and commode mats prevent troublesome slippery surfaces from causing accidents and injuries.
Easy Maintenance: ProSorb mats simplify daily restroom maintenance including mopping. Because of its super absorptive nature, ProSorb eliminates puddles and cross-contamination. ProSorb mats are quick and easy to clean-simply mop over them or remove them.
Cost Effective: Since ProSorb mats reduce the amount of time necessary to maintain clean, hygienic restroom floors, they also significantly cut the cost of restroom maintenance. ProSorb is so economical, it will only cost you pennies each day, while saving you hundreds of dollars per year. ProSorb will dramatically slash labor costs.
Boost Appearance: Not only are ProSorb urinal and commode mats economical and practical, but their sleek design adds an extra appearance of cleanliness and sanitation to any restroom.